Games:
Game Boy

Pokémon Blue

Pokémon Red

Pokémon Pinball

Pokémon Yellow

Pokémon TCG

Pokémon Gold

Pokémon Silver

Pokémon Puzzle

Pokémon Crystal

Pokémon Green

Pokémon Go! Go!
Nintendo 64

Pokémon Snap

Pokémon Stadium

Super Smash Bros.

Pokémon Puzzle

Hey You, Pikachu!

Pokémon Stadium 2

Pokémon Stadium 3 (jap)

Pokémon Stadium 2 (jap)

Pokémon Stadium (jap)
Hardware:

Pokémon Yellow GBC

Pokémon Stadium Battle
&nbsp Set

Pikachu 64

Pokémon Gold/Silver GBC
Pokédex:

Pokémon 1-151

Pokémon 152-251

Annon #201
TV Show:

The characters

Episode summaries
Misc:

Codes

PGZ's Forum

Link to me

Win my award

Poll

Sign guestbook

View guestbook

Email me
ICQ:38414756

Links:
Topsites: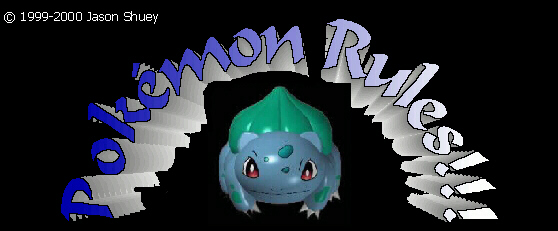 Best Viewed with: Microsoft Internet Explorer 5
1024 x 768 pixels


News:
11-11-00


Alright I finally did it. I put up the new layout. I hope you all like it. It has some problems in some places (The characters, Pokémon Go! Go!) but I will fix them soon. Until then enjoy the layout and the new info about Pokémon Crystal (from PGZ).



11-10-00


Ok, ok, I know I've been gone for long amounts of time lately but i got a long weekend off and had some time so I did some major updates to all the pages, added the Hardware section, and created a new layout finally. The new layout should be up soon. Either tonight or tomorrow. For now enjoy the new info.



8-2-00


Wow! It's been 2 months to the day since my last update, sorry all. Summer has been just as busy as the schoolyear and I just haven't had much time. The new layout is still coming. I have it done but I still have to add it to all the pages so hopefully within a few days if I find the time I will finish it and put it up. Until then enjoy what I have and wait for the new layout, Episode Summaries and Pokedex. Have fun!!!



6-2-00


Well I haven't been able to update the page in a while because I am just so busy with school right now. It is the end of the year and things are getting really crazy. I must apologize in advance because I will probably not update the page for 2-3 weeks until school is over. When the summer comes I plan on completly re-doing the site and making it awesome. Until then have fun!


5-21-00

I recently bought a Bung GB Xchanger and a 64 meg cart and I have to say it is awesome. It is a device that you can hook up to your computer and copy rom files onto a rewritable Game Boy cartridge that can hold up to 250 games at one time. Its super cool and easy to use. It even works with color Game Boy games. If you are tired of spending tons of money on little Game Boy games just get this device and you'll never have to buy another game in your life. If you are interested in getting it you'd better hurry up because the company that makes them has been forced to stop making them and only the stock that is left can be sold. You can get it here.


5-14-00

Names for 5 Pokémon from G/S have been confirmed. The three starting Pokémon are #152 Chikorita (same as Japanese), #155 Cyndaquil (formerly Hinoarashi the fire Pokémon), and #158 Totodile (formerly Waninoko the alligator Pokémon). The 2 other Pokémon confirmed were #249 Lugia (same as Japanese) and #163 Ho-oh (formerly Hoot-Hoot the owl Pokémon.


5-14-00

Added release dates for Pokémon Puzzle League both the N64 and the Game Boy versions. The Game Boy version will be released about 2 months after the N64 version.



This page and its contents are not endorsed by Nintendo. All pictures, brand names and logos are trademarks of their respective owners. Copyright material inadvertently published will be removed if requested.
© Copyright 1999-2000 Jason Shuey. All Rights Reserved.